The Best Place To Buy And Sell Exhibition Trucks And Trailers, Stands, Display Panels, Lecterns, Av Equipment
Search

Translucent with aeration holes, to create a uniform, fully connected floor for all event areas. £38 inclusive per panel – with some spare panels and edging plus ArmorDeck tool. Signs of use but perfectly serviceable pictures show not cleaned up yet.
ArmorDeck® is the most advanced engineered heavy-duty temporary special event flooring and turf protection system on the market today.
Half Price! £38 Per Pannel + VAT each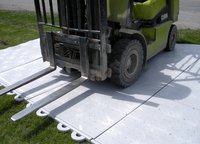 Each 2 m² cassette would cost over £250 to custom build. On offer are eight cassettes making a 4 m x 4 m (16 m²) display plinth.
As can be seen the chequer plate is in very good, little used condition.
The cassettes have provision for underfloor cabling.
The chequer plate is 3 mm thick mounted on 18 mm ply and 3 inch by 2 inch beam sub base so immensely strong.
Price for a 16 m² plinth/floor.
2m x 1m Chequer plate flooring cassettes ex Land Rover (Military) exhibition stands capable of supporting heavy military Land Rovers.
£600 +VAT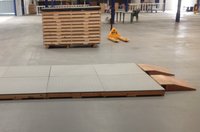 £6 +VAT each Showing 1 - 13 of 13 items